While printing documents and photos, we often ignore the print resolution.
Normally, printers come with resolution sufficient for general printing tasks. But if you are a professional and need a printer for more specialized jobs, you should know the difference between different printing resolution options.
In this article, we will discuss 300 dpi vs 600 dpi printing. But before we dig deep, let's see what dpi is and how it can affect your printing process.
Page Contents (Click Icon To Open/Close)
What Is DPI?
Dot per inch (dpi) is your printer's resolution ability.
Printers work with small nozzles that spray tiny drops of ink. Printers print by applying ink on paper with the help of these nozzles.
Dot per inch is the amount of color drops your printer can squeeze within the one-inch square.
The higher the amount of dots, the sharper the image results are. Some printers come with low dpi results, and others offer high resolution, choosing the right printer depends on your printing objectives.
Difference Between 300 DPI vs. 600 DPI Printing
300 dpi is a minimum standard resolution for document and photo printing. You can go high for printing certain things, but 300 is the minimum you use.
So if you are designing something that is going to be in someone's hand, then 300 dpi is good enough.
Here it is important to note that dpi does not determine the size of an image or document.
It merely implies the dots used per square to print that image on paper. So dpi also determines at what distance you no longer can see the pixels in an image.
Selecting between 300 dpi vs 600 dpi printing depends on your printing needs and objectives.
Knowing these little details is important for the quality of your work. A 300 dpi is a good selection for normal text and pictures but for more specialized jobs you need better resolution. This is why good quality photo printers typically have such a high DPI.
Why DPI Is Important For Prints?
As we said, dpi is the printer's ability to use ink dots per inch.
High dpi means better resolution printing results. It will result in crisp images with more sharp outlines and vibrancy.
Though dpi is not the only measuring test of sharp and good prints, it is one of the determining factors.
Other determining factors are the quality of image delivered to the printer, ink quality, and of course paper quality as well.
How Much Is Enough?
How to know when to use 300 DPI and when to use 600 DPI.
That depends on your printing needs. We need a printer for printing different material and deciding a dpi should be based on what you are printing and for what purpose.
Viewing Distance
Viewing distance is the distance your printed material can be viewed without undermining the quality of your image.
It should be a deciding factor of choosing the resolution as if you stand away, the pixels get smaller, affecting the quality of your image.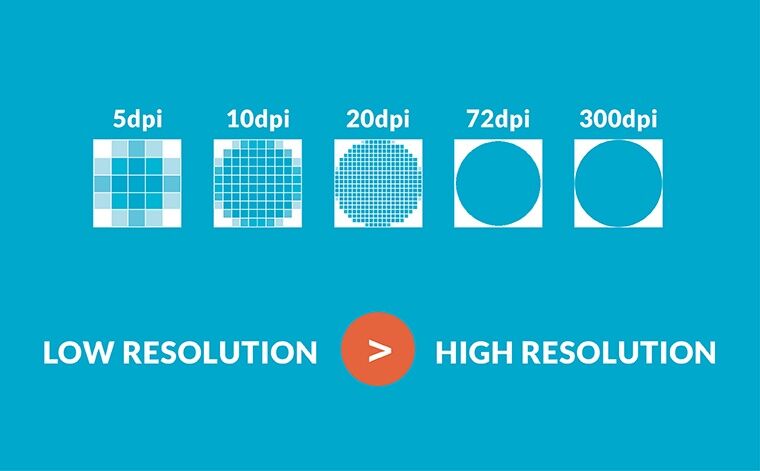 So 300 dpi is good if your printing requirements are general. Normal prints of documents and pictures with 300 dpi are just fine. A higher dpi is not significant for normal texts or pictures of standard size.
For a 16×20 image, 300 dpi is good enough. Its when you need smaller or larger images that you need high dpi prints.
For example, if you need pictures too small or too large, then you need high dpi.
600 dpi prints have twice the resolution than 300 dpi and are therefore sharper results. They also have better viewing distance that matters a lot if you are printing flyers, billboards, or other such printing material.
DPI Determines The Quality Of Prints
An important consideration when choosing 300 DPI vs 600 DPI printing is the increase in printing quality.
As we said, for general texts and standard size pictures 300 dpi is enough.
It is when we need more clarity in the printed images that we need higher dpi.
A professional photograph printed with high resolution will have better clarity, be it small or extra-large. It will be crisp and capture even the minute details from the original.
However, you may not need that clarity from billboards or posters and may choose fewer dpi settings. For more artistic designs and drafts, it is better to choose high resolution.
High DPI Can Affect Your Prints
As we said earlier, DPI affects the quality of your prints.
But for general pictures and text documents, 300 dpi is more than enough. Newspaper images use even less dpi, probably around 200 dpi.
Ink Quality And Paper Quality
Ink and paper quality also determines the quality of your prints.
A bad quality paper can soak ink and won't give a great print. Same is the case with low-quality ink.
Web Images
Web images are optimized for enhancing a user's experience. They have very less dpi to save the time of loading.
A high-resolution picture will slow your system down and will take time in loading. A usual dpi for web image is less than even 100 dpi around 72 dpi.
This is why when you print the image from the web it does not give very good quality, and the printed image is blurred.
FAQ
People Also Ask (FAQs)
1. Does low DPI print save ink or toner?
Not much, higher dots per inch means more dots within an inch, and less dpi means fewer dots per inch, but the size of dots will be larger.
So it will not make much difference. But still, with less dpi selection you will save little ink or toner.
2. Can we select the required dpi while printing?
Yes, you can adjust the settings as per your choice and need. Most printers print with their standard dpi resolution, but you can adjust and change the settings from the menu before printing.
Knowing these details help you save time and trouble and will provide excellent results as well.
3. Does only DPI determine the image quality?
No dpi is a major deciding factor, but it is not the only thing you need to take care. There are some other factors.
Camera resolution
You cannot print a good quality image unless it is captured with the right resolution.
This is where the lens of your camera or digital device matters.
Ink Quality and Paper Quality
Ink and paper quality also determines the quality of your prints.
A bad quality paper can soak ink and won't give a great print. Same is the case with low-quality ink.

Andrew White is the founder of TechGearoid, a leading technology review & information website that is designed to help consumers make better decisions when it comes to their IT purchases. As a specialist tech writer (nerd) with over 10 years of experience, he enjoys writing about everything there is to do with modern technology & the newest market innovations. When he isn't providing value for his readers, he's usually drinking coffee or at the beach. Andrew lives in Sydney, Australia with his wife and family.